Ovarian Cyst during Pregnancy: Complications
Ovarian Cyst during Pregnancy: Complications
A diagnosis of ovarian cysts can cause a woman to become alarmed. This type of concern can be elevated to a whole new level when it comes to an ovarian cyst during pregnancy.  An ovarian cyst is rarely dangerous during pregnancy and it depends on the type of cyst, the size and the location.
Cyst in Ovary during Pregnancy: How Cysts Affect a Woman's Fertility
The majority of the time, a cyst that develops in a woman's ovaries is considered a functional cyst, which means that it is a non-threatening cyst that will usually disappear on its own, within a month or two.  This type of cyst will not affect a woman's ability to have children. However, it can interfere with a woman's ability to ovulate.
Ovulation is the cycle where the follicle releases an egg through the fallopian tubes where it will travel to the uterus. Interferences or irregularities with normal ovulation are among the main factors that can contribute to a woman having difficulty achieving conception.

How To Get Rid of Ovarian Cysts ->> Click Here
There are two types of ovarian cysts that can cause infertility: cysts formed by PCOS and endometriosis.
Ovarian Cyst Ultrasound
An ultrasound is a routine part of a prenatal checkup. It's during this scan when an ovarian cyst is often diagnosed. Having an ovarian cyst during pregnancy will not harm the baby, especially if the cyst is small, meaning less than five centimeters in diameter. Once a cyst has been detected, the physician may simply monitor it through additional scans.
A corpus leutal cyst is very common during pregnancy, and is considered asymptomatic. This type of cyst can start to shrink during the second month of pregnancy and can disappear by the third month.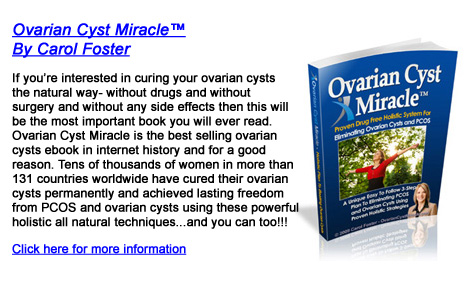 Small Cyst
A small cyst that is discovered during pregnancy will typically be left until after childbirth. However, if the cyst is larger than seven centimeters, there may be a need to remove it.  A large ovarian cyst during pregnancy can cause severe pain to the mother and it can also prevent the infant's head from engaging at the end of the pregnancy. Surgery will be presented as an option if the cyst is suspected to be cancerous or malignant, if there are complications such as possible torsion or rupture, or if the size of the cyst can pose issues with the pregnancy.  More about PCOS and Pregnancy here.
How To Treat Ovarian Cysts While Pregnant
A safe and effective procedure that can be performed is called laparoscopic surgery, which can be done without having an impact on the baby. Despite being safe, this procedure still carries a small risk of pregnancy loss, which needs to be weighed against the risk of leaving a cyst in place and performing the operation after the infant is delivered. There are also natural treatments available if you don't want to go the surgical route.
Women who want to conceive or pregnant women, do not need to worry about the severe health risks associated with ovarian cysts during pregnancy as these cases are rare. Your doctor will speak with you regarding treatment options for cyst removal and often this will mainly involve monitoring the condition at each appointment in order to ensure that it does not grow in size or affect the baby's growth or delivery.
Save
Save
Save
Save
My name is Michelle S. Emmert.  I am 32, living in Coventry Court.  I am married and blessed with 2 lovely kids.   I had difficulty getting pregnant.  My husband and I attempted many methods to conceive, including many visits to the fertility specialists that costs us a bomb.  I still was not pregnant.  I keep wondering how can I get pregnant,  I had PCOS before and I keep wondering if PCOS affects my chance to get pregnancy.
Thank God, I found Lisa Oslon's pregnancy guide.  Now I have 2 beautiful boys.
Click here to know more about me.